Moving every now and then is good for you. It gives you exciting possibilities, sets new goals and might even make some of your dreams come true – after all, people usually move on as they strive for something better. For some, moving is an inspiration, a way of life.
On the other hand, under the wrong circumstances the end of your tenancy could also be overwhelming, chaotic, money consuming and really, really stressful time. Especially in case you put off too many moving tasks for the last minute, like booking and end of tenancy cleaning company like ours and you are not prepared when your landlord or letting agent comes for a joint inspection of the property. He will go through every point of the detailed end of tenancy check-list which he carries and unless the state of the flat or house leaves nothing to be desired, you may lose some – if not all – of your security deposit. Property owners and letting agencies often need to make deposit deductions so they can hire a company to restore the vacated premises to their original condition by rubbish removal, thorough cleaning, wall painting, replacing or repairing any damaged or missing items, etc.
More potential problems could occur in the removal process. You certainly don't want to lose any items or have them damaged or stolen – which is likely to happen if you trust the moving to the wrong people.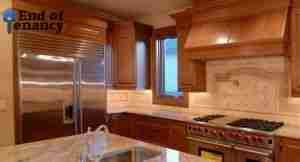 In order to avoid any of that – along with many other unpleasant experiences between ending your tenancy and starting a new one, make sure to get all the information you might use in the process (we at End of Tenancy Cleaning London can help you with that), plan ahead of time, stay focused… and keep calm.
If you are moving from a rented property for the first time or have a very busy schedule, you probably would not be able to deal with all the aspects of the end of tenancy entirely on your own. Luckily, you don't have to – we can make it a great deal easier for you – just follow the three simple steps below and enjoy a stress-free moving house in London or the areas!
Inform your landlord or letting agent that you intend to move out from the property

,

even if your tenancy is for a fixed term which is about to end. He may contact you himself to learn whether you wish to renew the tenancy or prefer to leave. Keep in mind that leaving without notifying your landlord means that you still have to carry on paying rent, regardless of the fact that you vacated the flat or house. Check the contents of your tenancy agreement to find out exactly when the notification should take place. Of course, the notice should be given in advance, usually 1 or 2 months prior the date you plan to hand in the keys for the property. It is best to write your notice and keep a copy for yourself – this applies for all tenancy related correspondence and documentation. To save you time, we offer you to use this notice letter template. All you have to do is to fill in the appropriate names and dates.
The easiest way to send the letter is by means of email but it won't normally be accepted by landlords, unless the tenancy agreement specifically states that this can be done. If you aren't sure, you can contact your landlord and ask him. Your best options here are posting the notice by recorded delivery or handling it to your landlord in person and asking for a receipt. Needless to say, you need to keep the receipts.
For information concerning specific situations, such as ending a tenancy when it is still in the fixed term, or ending a month to month tenancy, read here.
Make a list of all your end of tenancy tasks

and revise it each time you have completed a task. Set realistic deadlines and start early so you could have enough time for everything. If possible, delegate some of the relocating tasks and responsibilities or even share them with a family member. Keep track of the progress. You will probably keep thinking and adding tasks to the list, which is good – the more thorough it is, the less likely to miss anything.
Make sure that any repairs

for damage that you were responsible for

are completed

– everything should be left the same way as it was at the very start of your tenancy.
Contact your utility (water, electric, gas) companies

and let them know that you are moving. Take a note of water, electricity and gas, provide meter readings. You will also need to end your accounts or change your details.
Let your bank, insurance company, building society, telephone company, etc., know

that you are moving and how to contact you. Make all the required arrangements with them.
Don't forget to

cancel any future direct debit arrangements for rent

and other charges related to the vacated property with your bank,

if applicable

.
Contact the Post Office

and arrange that your mail is redirected to your new address.
Inform the Department for Work and Pensions

of your change of address,

in case you are claiming a welfare benefit of any kind

.
Inform the Council Tax and Housing Benefit Service

that you change your address –

if applicable

.
If you are leaving the area, don't forget to

inform your doctor, dentist, vet

(if you have pets),

school

(if you have children attending a local one), etc. that you are moving. Collect all the necessary records. If they can't recommend their colleagues in the area that you are moving to, and you don't have ones in mind either, make a thorough research and contact the ones that you have chosen.
Inform your cable or satellite operator

, as well as your internet provider, that you are moving.
Cancel or redirect regular deliveries

– milk, magazines, newspapers, etc. – if you have any.
Cancel or redirect regular services

, such as

domestic cleaning

, ironing services, etc. – if you have any.
See that all sets of keys from the property are available

for you to return when the time comes.
Contact your friends, neighbours and colleagues

– all the people that

you want to know of your moving, and let them know your new address. This is the perfect occasion to throw a great unforgettable farewell party that will make everyone miss you even more. Not to mention that your guests could gladly help you eat and drink most of the content of your fridge and freezer – and you need both good and empty, and defrosted before the start of the

end of tenancy cleaning

. So enjoy your last party in the old place and don't forget to take pictures!
Before the end of your tenancy
Start by writing a detail removal check-list, including deadlines and eventual costs. Naturally, all your personal belongings that you plan to take with you to your new home should be included, along with all pieces of furniture, appliances, equipment, plants, etc. – everything that you own and want to relocate.
Identify any unwanted items – there is no point in packing and carrying into your new place things that you no longer need or use. Once you begin to go through the closets and storage space to sort out your personal belongings, you may be surprised how many of them are being kept for nothing but sentimental reasons or for no reason at all. You can have a sale (for example, on eBay), donate them or take them to your local recycle bank. This will save you at least few boxes and will make the moving a bit easier.
Make sure that everything that you plan to bring into your new residence fits where you want it. If it is impossible to take a certain item to your new home because it is too large or simply because it would look out of place, you could sell it as well. In case you want to keep it for another time, you would prefer to put it in storage.
If you choose to do the packing on your own, collect boxes. Most people underestimate the number of boxes they would need in order to fit everything. You can arrange to collect free boxes from local shops, restaurants, bars, etc. Starting early would allow you a better choice. However, you could save yourself the trouble and ask the removal company to provide the boxes and even to carry out the packing.
Find out which removal companies can be hired in your London area. You could ask your friends, colleagues or neighbours for recommendations, and read  reviews online.

Hiring a removal firm is an important decision

so the earlier you start to explore your options, the better. In you have any large, heavy or specific items such as a piano, not every mover will be able to accommodate your needs. Another reason for you to do your research ahead of the relocation date is that many removal firms are booked weeks in advance.
Get moving quotes from the local companies. Look for a competitive price but avoid any deals that look too cheap. Choose a removal service at a reasonable price which you can afford but don't let the price be your only concern – focus on the experience, reliability and the range of services provided by the company.
Make sure that the chosen company is registered, properly licensed and insured. All the certifications of the company have to be current.
Make sure that your items are properly insured, especially if you have expensive pieces of art, antiques, heirlooms, etc. Find out the removal firm's policy on damaged or lost property, as well as on a delay.
Discuss the payment options. A solid, reliable company would accept various methods of payment. Hiring a firm that only accepts cash or requests a large deposit is a risk.
Discuss the services that you will need with the removal company. Don't hesitate to ask any questions. Read carefully the moving contract and be sure that you understand everything before you sign it. Give all the necessary directions and instructions regarding your old and new home alike!
On the relocation date
Prepare your open first box for moving. The box should contain all the basic essentials that you will need at the first day in your new home, such as some clothes and shoes, bathroom essentials, sheets, pyjamas, packed snacks, coffee, cups, dishes, cutlery and so on, according to your personal needs and preferences. You can take it with you and transport it yourself.
Be present and available to answer any questions and to provide instructions and directions if needed.
Read all the moving related documents, checklists, etc. before you sign them.
Make a last tour of the entire property before the movers leave so you could be sure that everything is taken care of.
Final destination
Be available to answer questions and give instructions on where the items should go.
Make sure that there are no missing or damaged items

before signing the delivered inventory checklist.
End of tenancy cleaning is the final step before the inspection and the handling of the keys. It is essential for the return of your security deposit and therefore should be taken seriously. If you think to clean by yourself, take into consideration that end of tenancy cleaning is time and energy consuming. It may take you more than a couple of days to achieve satisfactory outcome, it will leave you completely exhausted and in the worst case scenario, your landlord may still insist on bringing in a professional cleaning company. You don't need to go through the extra stress, especially with all the moving tasks and responsibilities you have already assumed. Besides, you can't automatically put your professional and personal life on hold just because you are moving. So, it's really quite simple – opt for booking the end of tenancy cleaning services that you need

instead of carrying it out yourself and enjoy the results.
Instead of approaching any random cleaning company, take some time to do a research.

Ask people you trust for referrals or search the web, for example type

end of tenancy cleaning London

testimonials

or

end of tenancy cleaning Greenwich reviews

in your preferred search engine. Better yet, do both – it never hurts to be cautious in situations like this. Look for a company with enough experience in this particular type of service.
Contact several companies in order to get a free quote. This would also help you with forming your first impressions with the cleaners – real professionals should be prompt, accurate, polite and able to explain the whole process and pricing in a clear and understandable manner. When it comes to prices, consider which end of tenancy cleaning services you would need to use – some companies have regular promotions

, or offer good

discounts

. However, don't let the lowest price tempt you and look for cost-effective and high quality end of tenancy cleaning services instead.
Find out about the policy of the company in case of complaints.

Even if the company guarantees that the property will be left in a perfect condition in terms of cleaning – like we at

End Of Tenancy Services

do – the only way to feel safe is to know that if you or/and your landlord are not satisfied with something, the cleaning company will fix it at no extra charge according to the contract.
Make sure that the cleaning company

you want to hire

is registered, licensed and insured

. All the certifications of the company have to be current.
Get information about the payment options

. While reputable cleaning companies accept credit and debit cards, as well as checks, it is not advisable to deal with a firm that accepts cash only or insists on taking a large deposit.
Don't make a hasty decision –

collect as much information about the end of tenancy cleaning company as possible before you make your choice

.

Finally, read carefully the contract provided by the cleaning company and make sure that you understand and agree with all the terms and conditions before you put your signature anywhere.
After booking a service with the chosen cleaning company,

let its representatives know about any special requests or instructions

of the landlord or yourself

.

If your landlord has provided you with an end of tenancy checklist, make the cleaning specialists familiar with it.
Inspect the property after the end of tenancy cleaning is done

. If you chose

right

, everything should be fine and you could expect your security deposit back really soon.
If you found this information helpful,

share this page

with any of your friends at the end of their own tenancy, to help them plan. 

Copyright © 2023 endoftenancy.com
By making a booking through this website you agree to be bound by the terms and conditions.